"Implication of Quality: Ayurveda, Pharmacognosy, the Essence of Herbal Medicine and Cosmetic"
Published on August 25, 2023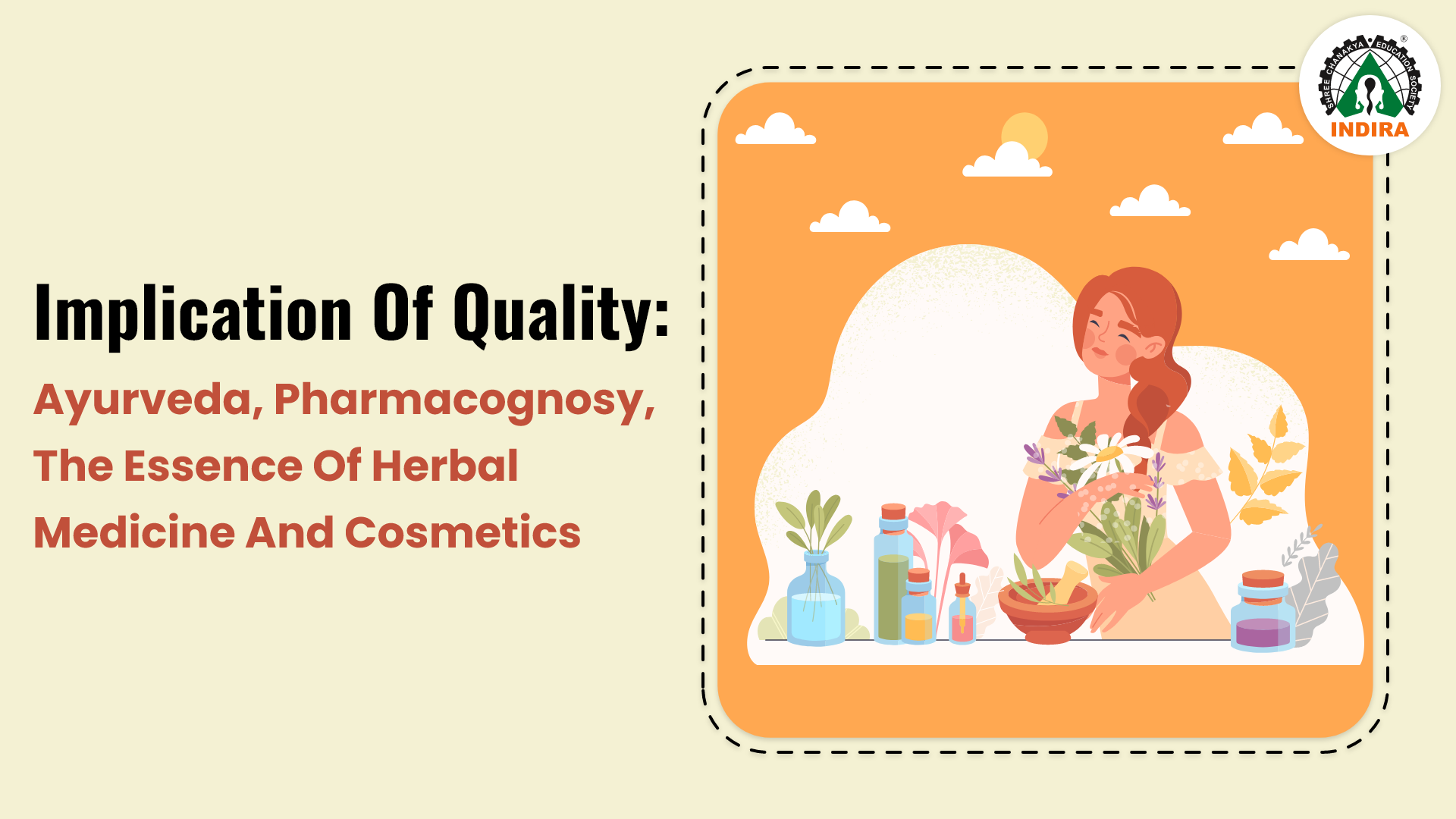 Ayurveda is a widely recognized traditional system of medicine in India that focuses on the body, mind, and spirit to support overall wellness. In Ayurveda, Pharmacognosy serves as a powerful bridge between traditional healing practices and modern pharmaceutical sciences. Pharmacognosy paves the way for safer, more efficient, and long-lasting healthcare solutions by embracing the knowledge of ancient healing and combining it with innovative scientific methodologies. People are increasingly aware of the importance of nutrition in maintaining good health. Also, people are becoming more conscious related to organic foods which provide a wide range of nutrition and reduce exposure to harmful chemicals. This will be helpful to individuals and move toward a sustainable goal.
Have you ever wondered how it could be possible for us to utilize herbal medications safely and effectively? Well, it's all because of a procedure called "standardization." Consider that you are preparing cookies. Each time you follow a specific recipe with precise measurements for ingredients such as sugar, flour, and chocolate chips. This makes sure that each batch of cookies tastes identical to the last. Likewise, a method to ensure the reliability and consistency of herbal medications is known as "standardization."
Standardization involves carefully selecting the right plant part such as leaves, stems, barks, roots, fruits, and seeds, and ensuring that they are collected at the right time. Just like how you need high-quality ingredients for your cookies, herbal medicine also needs to be a high-quality plant part. To put it another way, imagine cleaning and preparing your cookie dough before baking. The plant parts also needed to be cleaned, dried, and processed into extracts or powders. The key aspect now is that standardization ensures that each batch of herbal medicine contains the same quantity of active components to make them effective just like you want the same quantity of chocolate chips in each cookie.
In this way, scientists and experts work on standardization using modern methods to meet specific quality standards for herbal medicine. Just like your favourite cookies, it's all about quality and consistency!!!
The value of Ayurveda in preserving health, preventing diseases, and offering different remedies, and treatments is recognized by WHO. "Schedule T" has given good manufacturing practices (GMP) for the manufacturing, sale, and distribution of drugs including Ayurvedic, Siddha, Unani, and Homeopathic medicines. Good Manufacturing Practices (GMP) in relation to Ayurveda refer to the set of guidelines and standards established to ensure the quality, safety, and efficacy of various Ayurvedic formulations such as asava, arishta, vati or gutika, taila, churna, leha, paka, and bhasma.
High-value medicinal plant demand increased by 50% while availability was reduced by 26%. This led to higher levels of habitat degradation and exploitation by the pharmaceutical industry. This resulted in 65 species, or 10% of the total, falling into the severely endangered, endangered, vulnerable, and almost threatened categories. The market for medical plants in India was raised at Rs. 4.2 billion (US$ 56.6 million) in 2019 and is expected to increase at a CAGR of 38.5% to Rs. 14 billion (US$ 188.6 million) by 2026. The global market for herbal medicine was estimated to be around US$ 185 billion in 2020. The industries of herbal medicine are anticipated to expand at a CAGR of around 11% to around US$ 430 billion by 2028. Nowadays, natural, and herbal components are being used more in the cosmetic and personal care industries. The demand for herbal cosmetics rises due to changes in global lifestyle. The natural cosmetic market in India was valued at Rs. 300 billion (US$ 4.10 billion) in 2018 and is expected to reach Rs. 710.87 billion (US$ 9.72 billion) by 2024 indicating a strong inclination towards natural and plant-based formulations.
Hence, in Ayurveda, Pharmacognosy plays a vital role in the standardization to maintain the quality, purity, and identity of natural products. As the market grows, the demand and opportunities for skilled professionals in pharmacognosy will also rise.
Author
Ms. Akshada B. Murkute
Assistant Professor (Pharmacognosy & Phytochemistry)
SCES'S Indira College of Pharmacy, Pune
Email: akshadamurkute@indiraicp.edu.in
Contact no. 7722075040