Layoff: A strategic need?
Published on July 6, 2022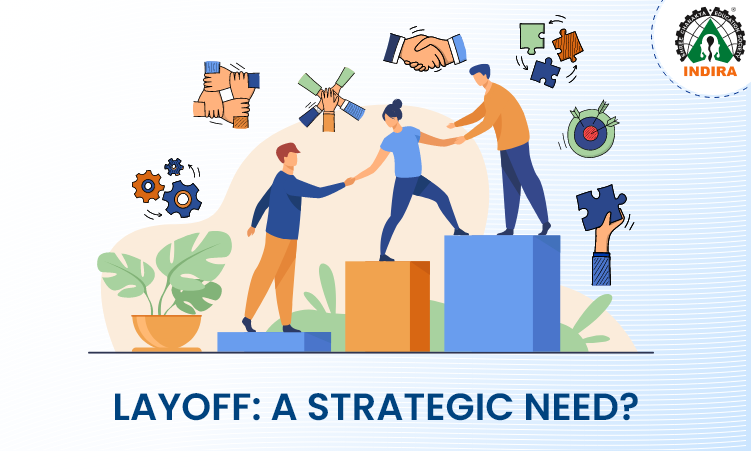 In a world full of fierce competition, where local and international companies fight for their space, the need to build sustainable business is the most crucial factor. Many startups have sprung up almost overnight by copying existing business models. However, what worked for one may not work for the other as the dynamics of the market, the time, competition and consumers and business needs changed. Some factors which have influenced the startup downsizing are-
Overpromise and under deliver
Many start ups started on a very positive and promising note. Great modern workplaces, modern HR practices (casual dressing, plush canteens, parties etc), flexi timings with WFH, and good roles were the attraction point for Gen Z. Companies which concentrated on valuations rather than value or a solid business proposal have had major layoffs. We have seen maximum layoffs in Indian startups- over 6000 in the last 5 months and experts feel that almost 60000 many lose their jobs. Businesses which started on a strong value proposition are the ones which have been able to sustain their employees and the business. They did not lose manpower, nor did they have to go through layoffs. Startups like small retail outlets hardly see any layoffs as they follow the conventional practices of real income and real profits.
It is a chain reaction: Attracting by high salary— work not as per expectations— under performance—- layoffs/resignations
Mismatch of Salary and Role expectations
Jobs which don't deserve the kind of salary, were given with high expectation and the performance did not measure up to it. Hence companies laid off or the employee resigned. Due too high salaries the startups attracted the best of talent, but the employees looked for more challenging and leadership roles. There were constraints in this as the founders themselves kept these roles with them. So, there were employees who were disenchanted which led to frustration and under performance. This led to restructuring. Companies must do this as it is a natural process of business evolution, and they will bounce back.
Drying up of VC funding
Inflation, Covid, war, economic challenges led to more cautious investments. Add to this, in one line of business there were more players with minor differentiation. A case in point is the EdTech, Fintech, online or logistic sector. The offering of the companies mainly have a "Me too" value proposition to the customer, yet as they require less investment, they have sprung up rapidly. So, the business pie is getting smaller and smaller. The running costs remain high while business is getting smaller. So, restructuring of manpower, facilities etc was on the anvil and was necessary. There was no check on the funding received and expenditure. Getting the right manpower for handling the financials would be a fundamental factor to build the sustainability of the business.
Building Trust
Building Trust of all stakeholders- customers, employees, investors, financial institutions, etc. A satisfied customer is the best way to build a sustainable brand and hence quality of service and product will be of immense importance. Likewise, a satisfied employee will be a testimony to the solidity of the firm, and they will attract good talent. This will in turn lead to the confidence of the investors and other financial institutions. This will build a sustainable brand and business. This is possible and this is a process which the startups in India are going through. The startups which follow the value proposition to all its stakeholders will be successful and the shake outs will stop.
Blog By:
Madhuri Sathe
Executive Director Corporate Relations Indira Group of Institutes
Posted in: Admissions, Indira Alumni