Careers prospects in Big Data Analytics after Computer Engineering
Published on September 27, 2021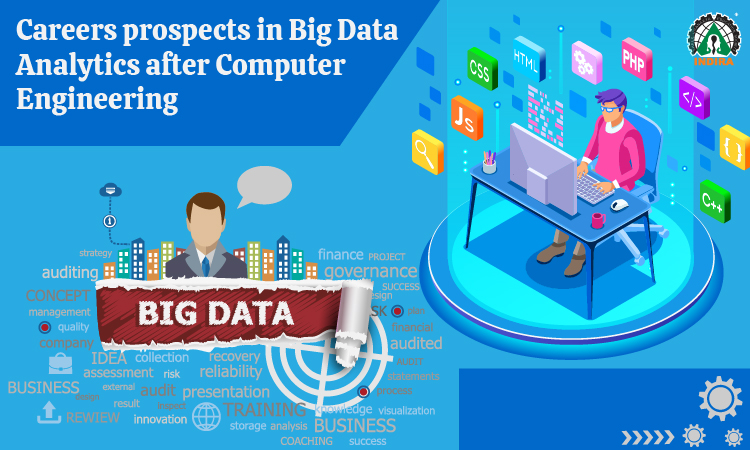 Big Data is data that contains greater variety, arriving in increasing volumes and with more velocity. These data sets are so vast in volume that traditional data processing software just can't manage them. Big Data Analysts gather the data, analyze and interpret it to extract information that can be beneficial. Data Analysts are also used by several firms to perform competitive market analysis tasks to identify the latest market trends.
The role of a data analyst is also to use various big data tools to process the collected data. Data Analysts have to be competent in mainly Math, Statistics, Programming, and Database. The Analysts mainly deal with structured, unstructured, or semi-structured data, and to process this data they use tools like a hive, NoSQL databases, and frameworks like Hadoop, spark, etc. Their main responsibility is to extract the information from data to help companies to increase their revenue by making correct decisions. To be a data analyst one must have good problem solving and arithmetic skills and engineering provides all these skill sets via the subjects in the curriculum.
The kind of work analysts do is studying past trends, generating patterns, producing reports, etc. to make a career in big data. At graduation level, you must opt for a computer engineering course, which will give you a deeper understanding of programming languages and algorithms and how and when to use them. An individual who has good logical, analytical, and problem-solving skills to deal with various real-world data-related challenges thus computer engineers are equipped with the skills and knowledge required to be Data Analysts. The careers in big data are at the boom and the requirement of professionals is increasing at a good pace.
Big Data Analysts have become the top priority project for almost all organizations and it is also not limited to any specific industry.
There are endless opportunities and scope for growth in big data.
Ultimate Opportunity to become a part of the big data wave by becoming a Computer Engineer.
Blog by :
Indira College of Engineering and Management.
Posted in:Admissions, Computer Engineering