Life of a Civil Engineer: Career Prospects
Published on September 25, 2021 | Leave a response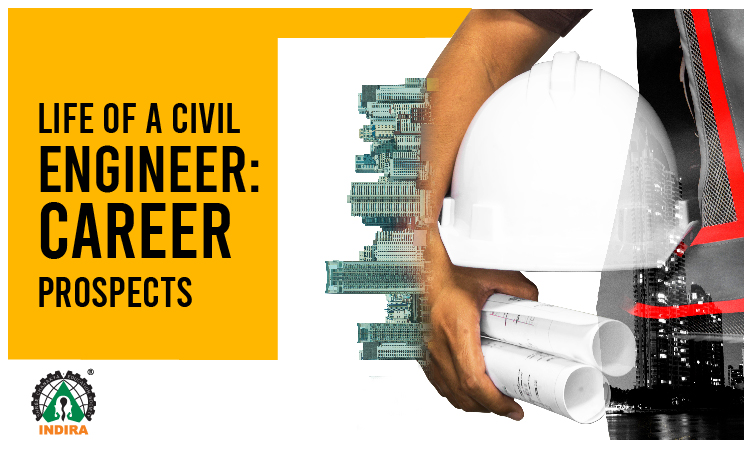 Civil Engineering Course is considered one of the oldest branches of engineering. They happen to be the central figure in building the infrastructure of a nation. The beauty of civil engineering is that it gives you an opportunity to plant wings to your dreams. Each project comes with its own set of challenges which require meticulous planning, creativity, adaptability and problem-solving skills to develop infrastructure.
In civil engineering programmes, coursework, practice and study are required in building techniques and advanced mathematical concepts.
Is Civil Engineering in Demand?
Civil engineers conceive, plan, design, construct, operate and maintain infrastructure projects and systems in public as well as in the private sector. Equal opportunities are available if you want to work from the comfort of your office or at the site. Today, it's become something more. The focus has shifted to the realm of seeing how we can make the most out of the resources available. Civil Engineering has always had a solid foundation in terms of career prospects.
The journey from creating living spaces to transforming them into megastructures, tall buildings, resilient communities, smart cities, etc. to name a few will be possible only with a degree in Civil engineering.
The versatility of this branch is not limited to the ground. Whether you are working under the ground or above the ground. The last couple of decades have been witnessing occurrences of different types of disasters. Every time a disaster hits, the infrastructure is hit whether it is a building, roads, bridge, highway, this calls for developing inclusive and sustainable structures, which requires skilled Civil Engineers.
Civil Engineering Career in Government Sector
Working in the government sector not just comes with stability and a good salary but also with the factor of job security. Indian Engineering Services is one of the sought after fields as it provides almost equal benefits as offered to IAS officers and Civil Servants. Pay Scale for Civil Engineers in Govt. jobs starts from INR 45,000 to INR 50,000.
The civil engineering branch exists in the fact that it has ample opportunities for all. Numbers of opportunities are available for Civil engineers both in government as well as in the private sector. Various fields in the government sector offer jobs for civil engineers Municipal Corporations, Jal Boards, Delhi Development Authority, New Delhi Municipal Corporation, Metro Rail, National Highway Authority of India, Indian Oil Corporation, Delhi State Industrial Development Corporation, Public Works Department, Central Public Works Department, Border Roads Organization, Military Engineering Services, Airport Authority of India, Indian Air Force, Railways, Irrigation & Flood control department, Public Health Engineering Department, National Hydro-electric Power Corporation, National Thermal Power Corporation, Oil and Natural Gas Corporation Limited, Defence Research and Development Organisation, RITES, DRDO, Pollution Control Boards, Building and Construction department of organizations and the list is endless.
The profiles in the government sector include Assistant Engineer, Assistant Executive Engineer, Executive Engineer, Chief Engineer etc, and starts from Trainee Engineer to Chief Executive Officer in the private sector.
Civil Engineering Career in Private Sector
In the private sector, jobs for civil engineers are offered in construction and design. A civil engineer with a good knowledge of Auto-CAD, STAAD-PRO, E-Tabs, ANSYS Software. The average Salary Package of a civil engineer in the private sector ranges from 2.5 LPA to 3.5 LPA.
A large number of companies are available to hire civil engineers in the private sector i.e. L&T, Tata Projects Limited, Gammon India, Gammon Infrastructure Projects Limited, Shapoorji & Pallonji Group, GMR Group, Infrastructure Lease & Financial Services, Hindustan Construction Company, Afcons Infrastructure Limited, Reliance Infrastructure, B L Kashyap & Sons Ltd, Essar Group, IRCON International Ltd, Jaypee Group, Nagarjuna Construction Company Ltd, National Building Construction Corporation Limited and the list is endless.
Civil engineers thus play a pivotal role in shaping the economy of a country. A civil engineer has an upper edge over engineers from other branches as they have equal opportunities in government as well as in the private sector. They can start their own ventures of consulting or construction at career commencement or after gaining a few years of professional experience.
Source: https://manavrachna.edu.in/blog/career-opportunities-in-civil-engineering/
Blog by :
Indira College of Engineering and Management.
Posted in:Civil Engineering, Engineering