What makes Indira's Engineering degree desirable by employer?
Published on February 6, 2020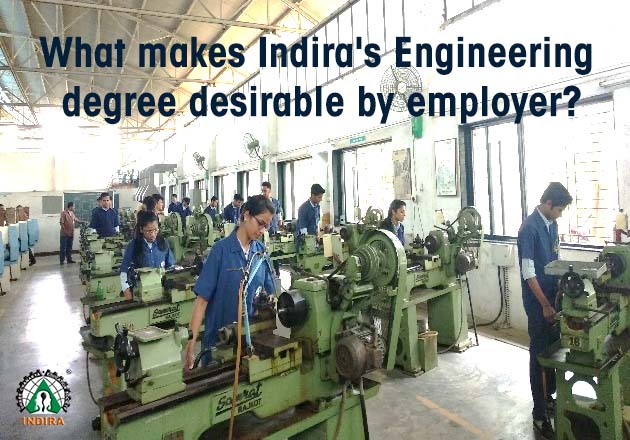 Indira Group, with an academic legacy of three decades, strives to impart quality education and nurtures engineers who will pursue excellence. Indira College of Engineering and Management imparts technology-driven education by implementing innovative instructional strategies to cope up with the global reforms in education and challenging technological demands of the Industries.
Indira's engineering degree is offered by Savitribai Phule Pune University and approved by AICTE. Engineering admission at Indira is oriented to fulfill the future needs of the students and society in general.
Distinct academic development initiatives are taken for student-centric learning and assessment to ensure that learning actually happens. Indira Engineering degree has come up with the innovative concept of the Scholar Club with exceptional inputs in current trends and technologies through practical training and offers International certifications in technical subjects.
Outcome-based education is implemented to focus on the organized curriculum delivery and assessment of domain knowledge, skills, and behavioral aspects of the students.
The career progression of the Engineering students is uplifted by exploring their scope of refined research and development in the area of emerging technologies and opens up new vistas of knowledge towards entrepreneurship and startups.
Seamless industry interfaces with engineering courses offer practical exposure to students and provide opportunities to work in live projects, internships, and placements.
Computer Engineering students are encouraged to participate in National level Competitions such as SmartIndia Hackathon to improve their programming skills, and Mechanical Engineering Students are trained to compete in SAE supra competition to enhance their design skills of fabricating racing cars. Civil Engineering students attend international study tours in Dubai and Malaysia to pursue advanced courses.
Talent Management is one of the most distinctive features of Indira College of Engineering and Management (ICEM). It is a team of in-house trainers, which trains the students of Engineering to make them "job-ready" by training them from the basics and horn their skills for holistic development by improving their communication skills, Vocabulary enrichment, and soft skills.
Besides communication skills, the team imparts training on the areas of Personality Development, Group Discussion, Personal Interview, Power Dressing, Body language, confidence building, Self -management, and Team Building.
Regular test series, mock group discussions, and mock interviews are conducted to acquaint the students for the campus drives. Noteworthy conversion of Indira College of Engineering students who have cleared aptitude, group discussion rounds, and personal interviews in the campus drives.
By imparting the above skill development training effectively, the Indira College of Engineering & Management is witnessing incredible improvements in the placement ratio, and the majority of the students got placed in the top-notch elite companies with high packages.
The above initiatives taken by Indira College of Engineering & Management are well recognized by employers of core companies, and they become our regular recruiters.
Also read,
Posted in : : Admissions, Engineering