Which Are The Top Engineering Specialities You Can Study at Indira?
Published on February 26, 2020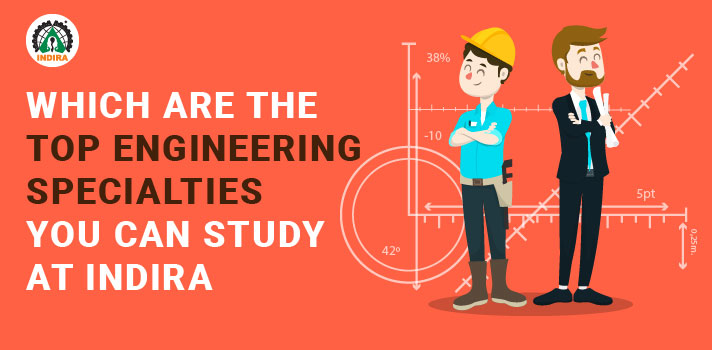 India is a proud nation producing exceptional Engineers and some of them are living legends. E Shreedharan, commonly known as the 'metro man', Vinod Dham, known as the Father of Pentium microprocessor chip are some of the inspiring Engineers who have forged their name on a global level.
Studying Engineering and being a part of India's strong engineering heritage is one of many reasons to study engineering. When it comes to the award-wining Engineering Institute of Pune, Indira College of Engineering & Management (ICEM) has over the years remained firm on one ideology: an unwavering reputation for academic excellence.
We're accredited with B++ grade by national assessment and accreditation council (NAAC) and it is here where you can dare to dream as you choose to study from our top engineering specialities offered at ICEM.
The Department of Civil Engineering focuses is known for its advancement in the areas of Geotechnical, Structural, Transportation, and Water Resources & Environmental Engineering. The faculty supports with technical advice on live engineering cases to Government and Private Sector companies nearby Pune.
The Computer Engineering department equips and trains students in core domain including Computational Complexity Theory, Applications and Databases, Computer Graphics, Programming, and Algorithms. We also offer an extra edge by providing in-house certification programs, aptitude training & GATE coaching for Final Year students, and Trinity London Certification.
The department of Electronics and Telecommunication is an AICTE approved and a premier departments of ICEM. This course offers a full spectrum of learning and the use of our well-equipped laboratories will make sure you have the latest knowledge in this dynamic field.
The Mechanical Engineering department gives students the training right from the development of mechanical engineering tools to learning techniques for problem-solving, right its application. We have collaborated with professional bodies such as the Society of Automotive Engineers (SAE), Department of Pune University, Indian Society for Technical Education for student development programs.
Master in Computer Application
The department is affiliated to Savitribai Phule Pune University (SPPU) and approved by the All India Council for Technical Education (AICTE). The master program in Computer Application (M.C.A) will put its core focus on subjects including Data Analytics, Cloud Computing, Service Oriented Architecture, and Python Programming along with core subjects and management skill development. It is said that the big data analytics market is set to reach $103 billion by 2023 and 97.2% of organizations are investing in big data and AI.
Study Engineering at Indira College of Engineering & Management- Pune's most sought after Engineering College
At ICEM, we equip students to predict and solve the engineering challenges of the globe. We offer rigorous specialized programs that encourage teamwork and ingenuity. We partner with industry to give students real-world experiences that lead to a better future through engineering. We're also the Top Engineering Colleges of India, by ranking 49th in top 100 private engineering institute rankings 2019 and 61st in top 140 engineering institute ranking 2019.
If you're an aspiring engineer, there's no better place to launch your career than ICEM.
Join us and create a world that works.
Also read:
Posted in : Admissions, Engineering