Which is better MCA or MBA?
Published on June 22, 2020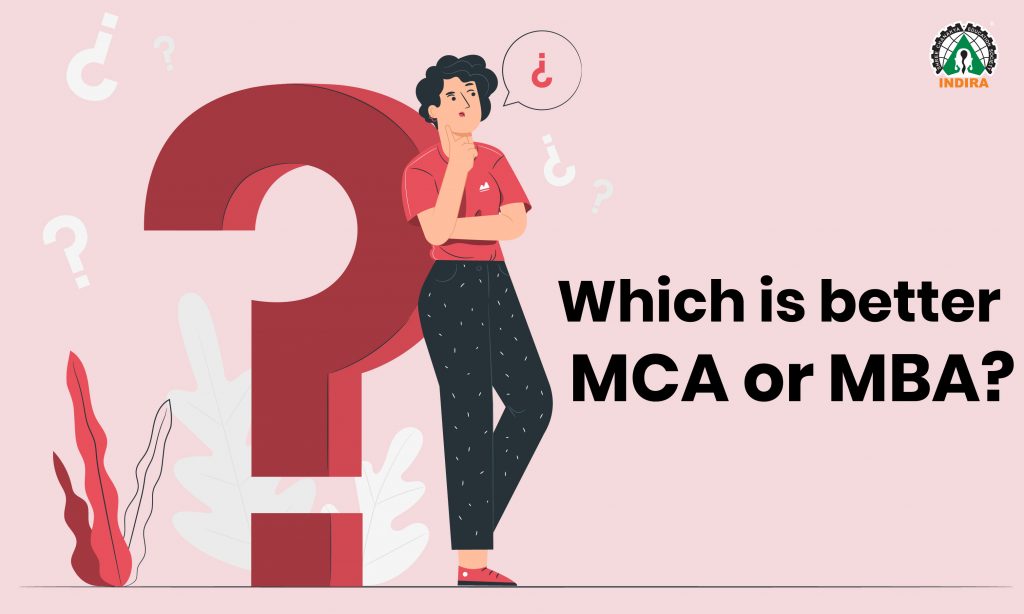 MBA and MCA, both are master's degree programs, which can be done after your graduation, but choosing one of them is always a big challenge for students who have done BCA, BCS, B.Sc. (IT). These courses have a technical background, and opting for MCA will take the students to a more technical career.
Now this is the era of technology where our daily lives are getting more dependent on technology and people are more tech-savvy, it is a better option with MCA to flourish your career in the world of technology.
If you get admission to MCA in top colleges like Indira College of Engineering and Management (ICEM), affiliated to Savitiribai Phule University, which has quality teaching and better campus recruitment, you will get good job opportunities. There is a wide scope for MCA in Government as well as Private sector.
MCA & MBA both are good courses, both are capable of getting good jobs. But both are different fields.
If you're a technology enthusiast or have an interest in software and programming then you should go for MCA. So, it is a better choice to grow your career in the IT sector. MCA course is the best option to make your career in the IT sector because MCA is not only a postgraduate program but it is also a complete professional making course in the IT sector.
The purpose of the MCA course is to prepare students with the latest technologies, tools, and applications in IT and to meet the ever-changing requirements of IT professionals.
MCA students need to study management as well as technical subjects like Financial Management, Accounting, Mathematics, Programming Languages like C, Java, ASP .Net, Web Development, Database Management System, Python, Data Analytics and so on as a part of their curriculum.
MCA is suitable for candidates who are interested in computer applications and would like to enhance their vision to be more technically sound IT professionals.
MBA is the right option for candidates who are good at managerial and administrative skills.
Career Opportunities after MCA
Some of the Career prospects for MCA graduates are as below:
Software Engineer
Web developer
Mobile Application developer
Software Consultant
IT Specialists officers in Banks
Data Scientist
Network Engineer
System Analyst
Database Administrator
Testing Engineer
Technical Support Engineer
Quality Assurance Engineer
Also Read,
Posted in : Admissions, Master of Business Administration (MBA), Master of Computer Applications (MCA)