Civil Engineering: Build a Great Career
Published on September 17, 2020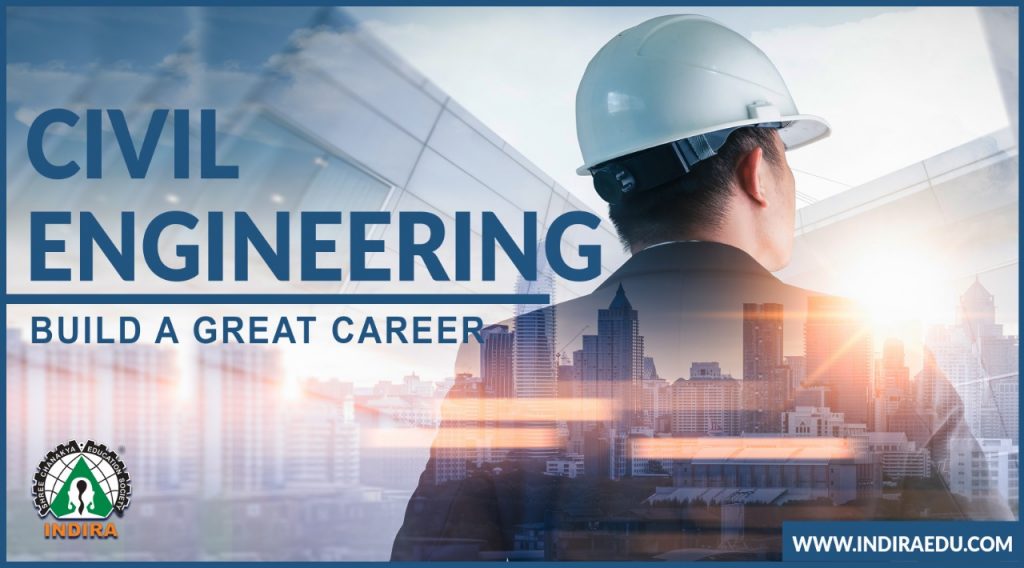 Introduction
India is developing at an exceptional rate. It has made tremendous progress in the fields of Informational Technology, Healthcare, Defence, Education, Automobiles, Aviation and even Space. All these sectors are directly or indirectly dependent on the infrastructure of the country. Infrastructure encompasses the building of cities, housing spaces, business hubs, industrial facilities, roads, dams, bridges, railway lines, waste management networks, power plants, mammoth monuments etc. In other words, we can say that infrastructure is the backbone of a country's economy and it is the Civil Engineers who oversee it.
One can deduce that Civil Engineering may have emerged during the prehistoric period after the man abandoned his nomadic lifestyle and started to settle in one place. This created a need for permanent shelter which can withstand harsh climatic conditions, provide support and protection. Then came other priorities of human settlement such as the need for water for drinking, sewage and agriculture. This expanded the Civil Engineer's expanse where he had to make provisions for dams, canals, irrigation etc. To ensure smooth commuting, roads, bridges etc. came into existence. Over the period this practice developed into full-fledged science known as Civil Engineering.
Today, Civil Engineering is a much sought after field which has great demand in every aspect of life. Thus an engineering aspirant can opt for Civil Engineering as his specialisation as a step towards a promising career.
Civil Engineering as a Career
Infrastructure is allotted a major portion of any country's budget, especially in developing countries. In India, Rs. 1.7 Crores were allotted to Transport Infrastructure alone in the Union Budget 2020-21 presented by the Honourable Finance Minister.
India is aiming at a 5 Trillion economy and there is a lot of focus on the growth of infrastructure. This opens a plethora of opportunities for the professionals related to the Civil Engineering field, especially for Civil Engineers and Infrastructure Engineering in particular.
Infrastructure Engineering is the sub-branch of Civil Engineering which includes works of digital or IT infrastructure. It comprises of designing, planning and execution of developing the IT infrastructure in our country. Works such as internet connections, cabling of optical fibres, visualisation platforms, build digital storages etc. Infrastructure Engineering will be a key field in the development of the nation in the years to come.
It is the right time for the young students to opt for Civil Engineering and grab the opportunities which lie ahead.
Civil Engineering @ Indira College of Engineering & Management, Pune
Indira College of Engineering & Management (ICEM), Pune was established in 2007 under the aegis of the prestigious Indira Group of Institutes. The college is approved by All India Council of Technical Education (AICTE), New Delhi and is affiliated to Savitribai Phule Pune University (SPPU). It is accredited by the National Assessment and Accreditation Council (NAAC).
The Civil Engineering department was established in the year 2012. Currently, ICEM offers Undergraduate Program, Bachelor of Engineering (BE) in Civil Engineering with an intake of 60 students.
ICEM is located in the picturesque Parandwadi village near Pune. It has a team of experienced teachers, proficient in their respective domains. The college has an excellent Industry-Academia interface which facilitates the final placement of the students. The college provides 100% placement assistance in top corporate companies with handsome packages.
The students of the Civil Engineering stream are given ample industrial exposure by arranging regular visits, interactive guest lectures from industry leaders and assigning different projects. It helps the students to develop leadership skills, build team spirit and improve problem-solving abilities. Emphasis is also given on augmenting personality by developing soft skills.
Civil Engineering at ICEM is an ideal choice for the students looking for a rewarding and satisfying career in the civil field.
Initiatives by ICEM during COVID-19
ICEM has the safest campus in the town. It has taken all due precautions to curb the spread of the pandemic. Regular sanitisation is carried out on the campus. It is made mandatory to use masks, face shields and other safety gears inside the college. We strictly adhere to the directives issued by the government from time to time. We are ready and prepared for welcoming the students for the upcoming academic year.
Also Read,
Posted in : Admissions, Civil Engineering, Engineering