Mechanical Engineering: An Eternal Field
Published on September 17, 2020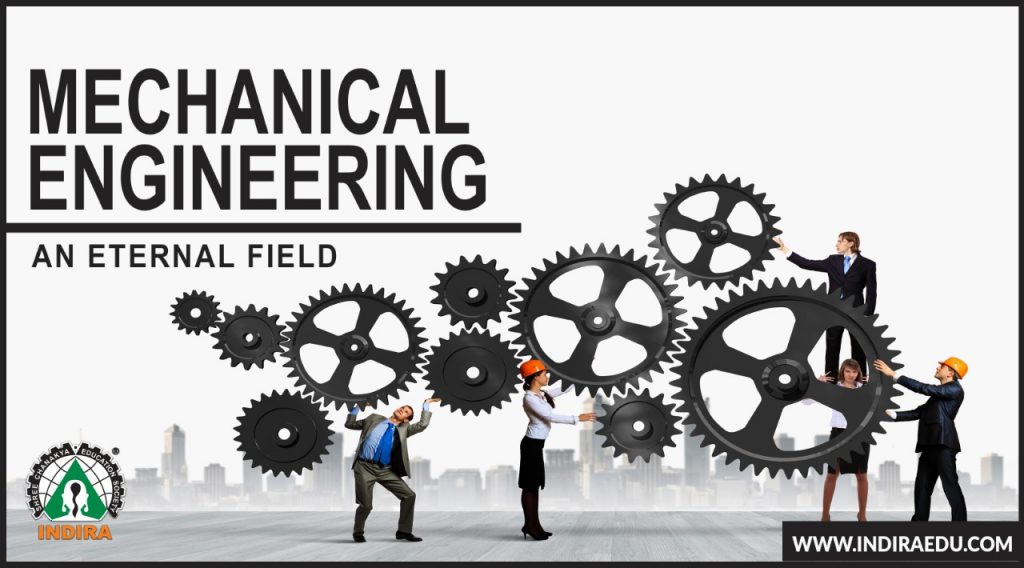 Mechanical Engineering in a layman's language can be defined as the study of any object or system in motion. Although a simple definition, it encompasses almost everything around us. Mechanical engineering can also be defined as the study of designing, prototyping, manufacturing, and maintaining all kinds of machines, simple or complex.
Right for a clapping-toy to a space shuttle and from a simple bicycle to complex medical machinery, all are under the expanse of the Mechanical Engineering field. Known as one of the oldest disciplines, it touches every aspect of human life and continuously endeavours for its betterment.
A Mechanical Engineer is a person who takes a product from an idea to the marketplace. It thus involves deep knowledge of designing, visualization, computer-aided software, manufacturing processes, metallurgy, and a highly analytical mind. A mechanical engineer can be regarded as a combination of scientists, inventors, machining experts, an accountant, and even a marketer.
Mechanical Engineering as a Career
Mechanical engineering plays a vital role in every imaginable industry including automobile, biomedical, aerospace, agriculture, robotics, electronics, computer, energy, aviation, defence, textile, automation, manufacturing, and many more.
There is lots of scope for this field as there is hardly any industrial sector where there is no need for Mechanical Engineers. Along with deep domain knowledge, students pursuing Mechanical Engineering are assigned projects which develop their leadership skills, teamwork abilities, interpersonal skills, negotiation skills, etc.
Advancement of Mechanical Engineering led to the emergence of many sub-branches, Mechatronics is one such branch. Mechatronics is the amalgamation of electrical, telecommunication, electronics, computer, and robotics engineering. There is tremendous progress in the field of Mechatronics every passing day. It is one of the sought after sub-branch of Mechanical Engineering with huge potential.
After successful completion of Mechanical Engineering, students can join any organization as a manager, junior engineer, design engineer, production engineer, manufacturing supervisor, purchase professional, marketing/sales personnel, or a maintenance engineer.
Mechanical Engineering @ Indira College of Engineering & Management, Pune
Indira College of Engineering & Management (ICEM), Pune was established in 2007 under the aegis of the prestigious Indira Group of Institutes. The college is approved by All India Council of Technical Education (AICTE), New Delhi, and is affiliated to Savitribai Phule Pune University (SPPU). It is accredited by the National Assessment and Accreditation Council (NAAC).
Currently, ICEM offers Undergraduate Program, Bachelor of Engineering (BE) in Mechanical and Mechanical Sandwich, with an intake of 120 & 60 respectively and one Postgraduate Program, Master of Engineering (ME) with specialization in Heat Power with an intake of 18 seats.
ICEM is located in the picturesque Parandwadi village near Pune. It has a team of experienced teachers, proficient in their respective domains. The college has an excellent Industry-Academia interface which facilitates the final placement of the students. The college provides 100% placement assistance in top corporate companies with handsome packages.
The students of the Mechanical Engineering stream are given ample industrial exposure by arranging regular visits, interactive guest lectures from industry leaders, and assigning different projects. It helps the students to develop leadership skills, build team spirit, and improve problem-solving abilities. Emphasis is also given on augmenting personality by developing soft skills.
Mechanical Engineering at ICEM is an ideal choice for the students looking for a rewarding and satisfying career in the Mechanical field.
Initiatives by ICEM during COVID-19
ICEM has the safest campus in the town. It has taken all due precautions to curb the spread of the pandemic. Regular sanitization is carried out on the campus. It is made mandatory to use masks, face shields, and other safety gear inside the college. We strictly adhere to the directives issued by the government from time to time. We are ready and prepared for welcoming the students for the upcoming academic year.
Also read,
Posted in : Admissions, Engineering, Mechanical Engineering